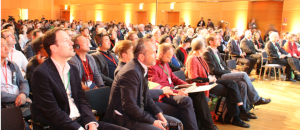 Programme online!
Current topics, new formats and a lot of networking opportunities!
To­geth­er with our part­ners from Heidel­berg and the sur­round­ing area, we have pre­pared a var­ied and di­verse pro­gramme for you. Look for­ward to lec­tures and work­shops on cur­rent top­ics such as sum­mer com­fort, ren­ov­a­tion, qual­ity as­sur­ance and much more.
New formats, such as an in­ter­act­ive ex­change of ex­per­i­en­ces among plan­ners in the form of a Pass­ive House Slam, will en­sure in­struct­ive and en­ter­tain­ing dis­cus­sions. If you like, you can even stay a day longer and vis­it Pass­ive House Build­ings in Heidel­berg and the sur­round­ing area on Sunday, 5th May!
Here is a small taste of two ex­cit­ing days dur­ing the spring weath­er in Heidel­berg!