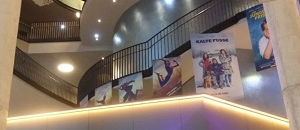 Info event
We cordially invite you to the info event taking place in the run up to the conference, on Wednesday 20 March 2019 in the Bahnstadt Heidelberg.
The Pas­sive House In­sti­tu­te and the City of Hei­del­berg or­gan­ise this small event from 10:00 am un­til 3:00 pm in or­der to draw at­ten­tion to the con­fer­en­ce ven­ue and the up­com­ing Pass­ive House con­fer­en­ce tak­ing place 6 weeks later. The or­gan­isers will present two build­ings, the B³ build­ing as well as the Pass­ive House cinema Lu­xor Film­pa­last.

The par­ti­cip­a­tion is free of charge but a re­gis­tra­tion is re­quired. Please send an e-mail to pres­se@pas­siv.de.

Be­gin­ning: 10:00 am

Loc­a­tion:
Bür­ger­haus Bahn­stadt Hei­del­berg
Ga­da­mer­platz 1
69115 Hei­del­berg
The info event on 20 March 2019 will be held in Ger­man.