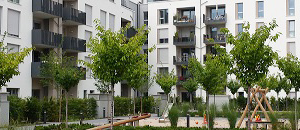 Passive House buildings in Heidelberg!
The con­fer­en­ce may end Sat­urday but stay one more day and vis­it Pass­ive House build­ings in Heidel­berg and the sur­round­ing area!
Dis­cov­er the largest Pass­ive House dis­trict in the world! We will also vis­it Heidel­berg's 'en­ergy park', which sup­plies the city's dis­trict heat­ing. Fur­ther­more, we will bring you to an 11,000 m2 school com­plex, a kinder­garten and apart­ment build­ings and many oth­ers in this beau­ti­ful re­gion!